ROYAL LEPAGE PARKSVILLE-QUALICUM BEACH REALTY (QU)
Box 1360-679 Memorial
Qualicum Beach
V9K 1T4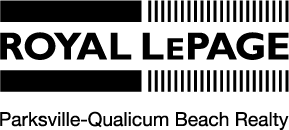 Area Property Search
Look for homes in the Canadian Mediterranean
Residential
Any
Single Family
Half Duplex
Townhouse
Condo/Apartment
Full Duplex
Triplex
Fourplex
Mobile
Modular
Lots/Acreage
Farm
Recreational
Commercial
Any
Building Only
Building & Land
Business & Leasehold
Business & Property
Business Only
Land Only
Multi-Family
Industrial
Min Price
Any Price
$25,000
$50,000
$75,000
$100,000
$125,000
$150,000
$175,000
$200,000
$250,000
$300,000
$350,000
$400,000
$450,000
$500,000
$550,000
$600,000
$650,000
$700,000
$750,000
$800,000
$850,000
$900,000
$950,000
$1,000,000
$1,250,000
$1,500,000
$1,750,000
$2,000,000
$2,500,000
$3,000,000
$4,000,000
$5,000,000
$6,000,000
Max Price
Any Price
$25,000
$50,000
$75,000
$100,000
$125,000
$150,000
$175,000
$200,000
$250,000
$300,000
$350,000
$400,000
$450,000
$500,000
$550,000
$600,000
$650,000
$700,000
$750,000
$800,000
$850,000
$900,000
$950,000
$1,000,000
$1,250,000
$1,500,000
$1,750,000
$2,000,000
$2,500,000
$3,000,000
$4,000,000
$5,000,000
$6,000,000
Min
Any
200 Sqft
300 Sqft
400 Sqft
500 Sqft
600 Sqft
700 Sqft
800 Sqft
900 Sqft
1,000 Sqft
1,100 Sqft
1,200 Sqft
1,300 Sqft
1,400 Sqft
1,500 Sqft
1,600 Sqft
1,700 Sqft
1,800 Sqft
1,900 Sqft
2,000 Sqft
2,500 Sqft
3,000 Sqft
3,500 Sqft
4,000 Sqft
4,500 Sqft
5,000 Sqft
6,000 Sqft
Max
200 Sqft
300 Sqft
400 Sqft
500 Sqft
600 Sqft
700 Sqft
800 Sqft
900 Sqft
1,000 Sqft
1,100 Sqft
1,200 Sqft
1,300 Sqft
1,400 Sqft
1,500 Sqft
1,600 Sqft
1,700 Sqft
1,800 Sqft
1,900 Sqft
2,000 Sqft
2,500 Sqft
3,000 Sqft
3,500 Sqft
4,000 Sqft
4,500 Sqft
5,000 Sqft
6,000 Sqft
464 Bruce Ave
Bed: 5
Bath: 2
Price: $549,000
Sold
Take a look at this 5 bedroom, 2 bath, nearly 2000 sq ft home on a 7308 sq ft lot, in an ideal VIU location! This is a solid and clean home with many updates performed over the years. Located directly across from the many services of the University Mall including (but not limited to) grocery and drug stores, numerous restaurants and coffee shops, and a bus stop. Close to schools, and only a 15 min walk or a ...
500 Gallery Close
Bed: 3
Bath: 2
Price: $799,000
Sold
Qualicum Beach Rancher - This three-bedroom, two-bathroom home has great curb appeal, with a large lawn & planting beds that line the walkway to the front door. Step inside to find an open living/dining room with big windows that flood the home with natural light. At the back of the floorplan, the spacious kitchen & family room combo includes a dining nook & a cozy fireplace. You can entertain all summer lo...
Listed by ROYAL LEPAGE PARKSVILLE-QUALICUM BEACH REALTY (PK)
2730 Powder Point Rd
Bed: 2
Bath: 3
Price: $1,498,000
SOLD BY
Magical Nanoose Bay Acreage. Enter through a winding forested driveway and you will be transported into a serene haven with old growth trees, gentle forest floors with ferns, meandering trails, and a charming Vectis built home. The picture-perfect rancher surrounded by decks and patios with natural fir floors and live edge accents has a light infused open plan kitchen/great room, 2 generous bedrooms and 2 ser...
Listed by ROYAL LEPAGE PARKSVILLE-QUALICUM BEACH REALTY (PK)
Consulting a REALTOR®
REALTORS® are members of The Canadian Real Estate Association who subscribe to a Code of Ethics and Standards of Business Practice. Members of the Vancouver Island Real Estate Board are members of both the British Columbia and Canadian Real Estate Associations.
The following is a list of services you can expect to receive from a REALTOR® when you buy a home:
A REALTOR® will fully explain the details of your working relationship (called "agency") so that you are clear as to when a REALTOR® is working for you or for the seller.
A REALTOR® has access to hundreds of current listings of homes for sale because of a co- operative system called the Multiple Listing Service® (MLS®).
A REALTOR® can provide you with a customized list of homes that best meet your needs -- size, style, features, location, proximity to schools, shopping, etc. - and then make arrangements for you to view those homes that appeal to you the most.
A REALTOR® will help you determine how big a home you can afford.
REALTORs® are familiar with the local lending market and can offer helpful advice.
A REALTOR® has no emotional ties to any type or style of home and can be objective in pointing out the merits of one home over another.
A REALTOR® will have information on zoning changes, taxes, utility costs and school and recreation services that could affect your decision to buy a home in a specific area.
A REALTOR® will assist you in negotiating the terms of your purchase, which can be a nerve- wracking process for someone who is not experienced in negotiating.
A REALTOR® will advise you of the legal process required in obtaining title and taking possession of your property; the costs associated with buying a home such as insurance, mortgage registration and legal fees will be explained in detail.
Selling Your Home - Why it Pays to Use a REALTOR®
Before selling your home, you will need a clear understanding of the legal issues and potential pitfalls. One wrong action could result in a lot of cost and frustration, which is why it is essential to have a REALTOR® working with you, as he or she will make the sale of your home a successful and satisfying experience.
Greater exposure
REALTORS® use the Multiple Listing Service® (MLS®) to give your home maximum exposure. MLS® is a computer-based system that relays valuable information about your home to hundreds of REALTORS® and potential homebuyers.
Setting a price
Setting a price for your home is an important but difficult process. Again, this is where the services of a REALTOR® prove invaluable. REALTORS® have the experience to help you understand how the market works and decide upon a realistic price that meets your goals. REALTORS® also pre-screen potential buyers to make sure only those who are serious and financially qualified view your home.
REALTORS® will also develop a marketing plan to help your property receive maximum exposure. This will likely include placing your home on the MLS® system and placing a "For Sale" sign on the front lawn. The plan will likely also include arranging open houses for other REALTORS® and potential buyers, and developing advertisements and feature sheets/mailers to market your home.
Once you have accepted an offer to buy your home, your REALTOR® will help ensure that all the proper paperwork is completed. He or she will also make sure that both parties meet the necessary conditions outlined in the agreement.
Why working with a REALTOR® makes sense
When you work with a REALTOR® you will likely get a better price for your home than if you try to sell it yourself. Apart from the financial benefits, however, there is an extra measure of comfort and security that comes from having a REALTOR® on your side. Remember that REALTORS® are governed by a code of ethics and standards of business practice. They have also been trained and licensed under the provincial Real Estate Services Act to assist in transactions involving real property. When it comes to buying or selling property, using a REALTOR® just makes sense.
Kevin Carl is a 2016, 2018, 2021,2022 Presidents Gold* and 2017, 2019, and 2020 Master Sales* award recipient REALTOR® who is committed to helping people garner real estate knowledge and facilitate their real estate transactions. Possessing more than 30 years of sales and marketing experience with contractors, engineers, municipalities, dealers, wholesalers, and the public at large has allowed Kevin to develop significant negotiation and problem-solving skills, as well as the ability to relate to people of many backgrounds, ages, and walks of life.
Kevin prides himself on being a responsive, enthusiastic, and supportive, full-time REALTOR and considers a career in real estate a lifestyle - not just a job or something he does in his spare time. If you are looking for a professional to guide you through your real estate process you can count on Kevin for personalized and attentive service, excellent knowledge of the mid-Island area and its amenities, great negotiation skills and expert purchasing or selling strategies.
Kevin and his wife Deena DeVito-Carl are longtime residents of the Parksville-Qualicum Beach area. They are dedicated to the local community and their commitment is further solidified through ownership of a well-respected and established local business Innovate Dance Arts (formerly the Parksville Ballet School).
Award-winning service, five-star reviews, and exceptional testimonials promise a positive and helpful experience. Let Kevin Carl sell your home, help you purchase a new one, and be your guide to one of the most beautiful and developing areas in the province.
*Gold is the top 6-10% and Master Sales is the top 11-20% of all RLP agents in the area (VIREB Zone 5).
!Home.view_full_search_screen!